Request Free Sample Kits
We know you are making an important decision. When you request a free sample kit from Eventgroove, your kit is shipped overnight so that you can review it the very next day. We pay for shipping!
If we receive your sample kit request by 12:00 noon, (Monday through Friday), you will receive it the next business day. After 12:00 noon, we will send it the following business day.
---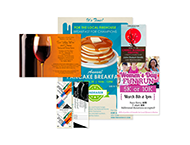 General Sample Kit - includes all products (free)
One general sample kit includes almost ALL our products: event tickets, raffle tickets, VIP passes, drink tickets, wristbands (all types), flyers, invitations, and postcards.
One general kit is everything you need for marketing, promotion, and event/raffle operations.
---